Check out the work available at
Akar Design, and Northern Clay Center, MN.
---
Upcoming shows:

Schaller Gallery, Solo. August, 2014
Lineage: the Art of Mentorship. Clay Art Center,
Port Chester, NY 9/27-11/15
---
Ceramic Arts Daily DVD: Surface: A Compilation of Techniques
"Surface decorating with the pros
When it comes to learning new surface decorating techniques, nothing beats a live demonstration. In this new compilation form Ceramic Arts Daily Presents, join Sarah Jaeger, Linda Arbuckle, Amy Sanders and Erin Furimsky as they show you some really cool ways to decorate using a variety of techniques. Gathered from their full-length videos, these robust projects focus on different ways to creatively enhance your surfaces and inspire fresh ideas."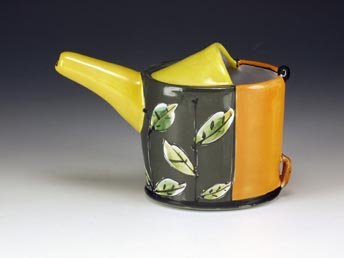 Arbuckle, 2014, Small Pour.Majolica on terracotta.
Schaller Gallery

Arbuckckle, 2014, jar, Remains of the Day. Majolica on terracotta. Schaller Gallery


500 Teapots Volume 2, Lark Books, 2013. Jim Lawton juror. Work pictured. P. 11, 13.
Posted online from the article in Ceramics Monthly, Jn/Jl/Aug issue, v.59 no. 6,
The Colorful World of Majolica: A Beautiful Low-Fire Pottery Glazing Technique

Maiolica, Daphne Carnegy, A & C Black, London. Work pictured, cited.
(buy from Amazon) Maiolica (Ceramics Handbooks)