Current shows with my work:
Sending out these pieces for the preview pieces for The American Pottery Festival at Northern Clay in September.
Check out the work available at Red Lodge Clay Center, MT, and Northern Clay Center, MN.
---
Looking forward to presenting at the Canadian Clay Symposium March 23 in Burnaby, British Columbia.
---
Yay! Residency and workshop lined up at The Archie Bray Foundation in Helena, MT for May, 2013. I hope to be there working for the whole month. Workshop details will be posted when they materialize.
---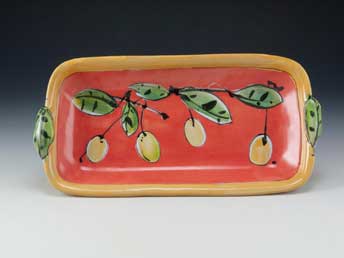 Arbuckle, 2013, Rectangular Tray: End of Summer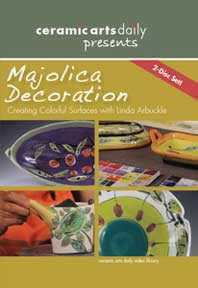 Ceramic Arts Daily.has released my 2-DVD majolica demo.
Clips online:
Majolica Decorating Technique & Design Considerations on YouTube
Design Considerations and Tips for Majolica on YouTube

They have posted an excerpt from the DVD about flocculating glaze for better application. One of my favorite visual demos.
---
Posted online from the article in Ceramics Monthly, Jn/Jl/Aug issue, v.59 no. 6,
The Colorful World of Majolica: A Beautiful Low-Fire Pottery Glazing Technique Spirit of Ceramics - Volume 6: Linda Arbuckle; Fresh Color on Pottery DVD, done for the National Council on Education for the Ceramic Arts and available for purchase on their web site.

Maiolica, Daphne Carnegy, A & C Black, London. Work pictured, cited.
(buy from Amazon) Maiolica (Ceramics Handbooks)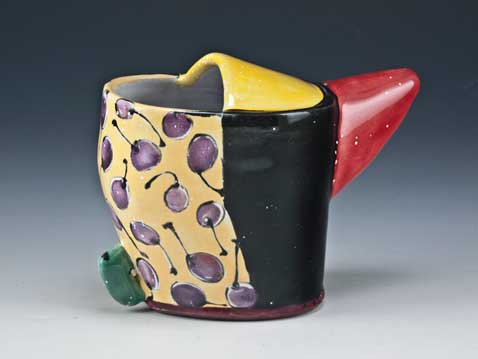 Arbuckle, 2013, Small Leaning Pour: Black Cherry Fizz