My new blog for sharing ephemeral info:
http://lindaarbuckle.com/lindaarbuckle-blog/
Arbuckle, 2013, Plate: Fall Leaves w Green Fruit. American Pottery Festival, Northern Clay Center.
Current shows with my work:
Gallery of works new 2013 works that will appear at Northern Clay Center's American Pottery Festival, Sept. 13-15th, 2013

Gallery of works going to Cup: the Intimate Object
online from Charlie Cummings Gallery, Oct. 5 - Nov. 2nd

Gallery of cups for Disater, Relief, and Resilience, Crimson Laurel Gallery, Martina Lantin curator, to benefit CERF, Nov. 1 - Dec. 25.

Check out the work available at Red Lodge Clay Center, MT, and Northern Clay Center, MN.
---
Upcoming shows: Akar Gallery, March, 2014, Schaller Gallery, August, 2014.
---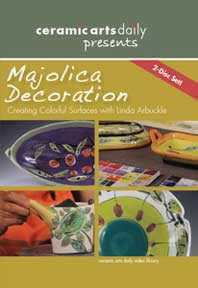 Ceramic Arts Daily.has released my 2-DVD majolica demo.
Clips online:
Majolica Decorating Technique & Design Considerations on YouTube
Design Considerations and Tips for Majolica on YouTube

They have posted an excerpt from the DVD about flocculating glaze for better application. One of my favorite visual demos.
---
500 Teapots Volume 2, Lark Books, 2013. Jim Lawton juror. Work pictured. P. 11, 13.
Posted online from the article in Ceramics Monthly, Jn/Jl/Aug issue, v.59 no. 6,
The Colorful World of Majolica: A Beautiful Low-Fire Pottery Glazing Technique Spirit of Ceramics - Volume 6: Linda Arbuckle; Fresh Color on Pottery DVD, done for the National Council on Education for the Ceramic Arts and available for purchase on their web site.

Maiolica, Daphne Carnegy, A & C Black, London. Work pictured, cited.
(buy from Amazon) Maiolica (Ceramics Handbooks)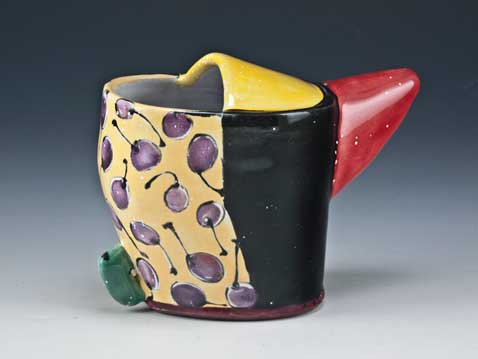 Arbuckle, 2013, Small Leaning Pour: Black Cherry Fizz